We are proud winners of the European Destination of Excellence (EDEN) 2015 – Tourism and Local Gastronomy and Irish Restaurants Association Foodie Town 2015 title.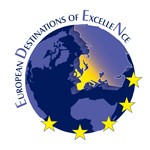 We invite you to join us & get involved in our Burren food story. We are passionate about our food, growing and producing it locally for you to enjoy.  Burren Food Trail is more than a listing of quality food establishments in the area – it aims to uncover for you the path that your food takes from field to plate. You can decide for yourself how to follow the trail – stop at every point or else dip in and out along the way, according to your taste, interest and location.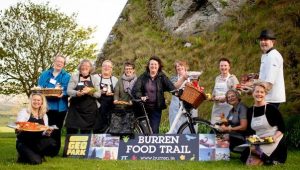 The members of the Burren Food Trail are bound by their commitment to building a sustainable future for the region.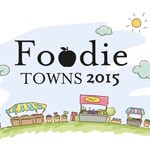 Each of the featured restaurants offers a Burren Food Trail Signature Dish to
savour. Each member has achieved recognised quality awards and standards, and has also signed up to the Burren Food Trail Customer Promise: you will find staff who are knowledgeable about the regional food story, menus which state the source of local produce, information on local food events and markets as well as a commitment to maximise the use of local ingredients in all prepared food.
Burren Food Trail Members 2020: Burren Fine Wine and Foods, Burren Free Range Pork Farm, Burren Gold Cheese at Aillwee Cave, Burren Smokehouse, Burren Nature Sanctuary, Doolin Cave Café,  Gleninagh Lamb, Gregans Castle Hotel, Hotel Doolin, Hyland's Burren Hotel,  Linnalla Ice-Cream Café, Linnane's Lobster Bar, Red Bank Food Company, Roadside Tavern, Stonecutters Kitchen, St Tola Goat Farm, Wild Kitchen, Seaview House Doolin, Ballinsheen House & Gardens, The Falls Hotel, Hazelwood Lodge, Ennistymon Market House, Sheedy's Hotel & Restaurant, Wild Atlantic Lodge, The Merriman Hotel & Monks Seafood Restaurant.
Taste The Burren Events 2020
Dont just visit The Burren, Taste it!
The Burren Food Trail members organise an annual series of Long table events, taking place at unusual locations around the Burren. They are a celebration of local, wild and seasonal produce of the Burren, as well as a chance to meet the producers, mingle with local people and learn about the Burren way of life.
These events focus, not only on food, but also on the landscape that surrounds it. Each individual event represents a unique opportunity to combine good food with real, authentic interaction with the people who produced or prepared it, or indeed with the surrounding landscape, activities and heritage.
This year, our Burren Food Fayre will be a virtual event starting on Friday October 23rd, which will involve 10 food demonstrations from the producers and chefs of the Burren.  The exciting line up will be announced soon!!
This events are supported by Clare Coco Festival Funding – With thanks to