B&B's/Guesthouses
Self Catering
Stay
Hosts Joanne & Tony welcome you to this beautiful part of County Clare which has been their home for 20 years.
Burkedale House and Cottage are situated within 2 acres of landscaped gardens in the quiet and secluded archaeologically rich area of Dysart O' Dea on the edge of the Burren & Cliffs of Moher UNESCO Global Geopark.
You will stay in our comfortable self- catering adult only accommodation where your every need is provided in either our 100-year-old Traditional Irish Cottage or our newly renovated Garden Suite.
Surrounded by forests, castles lakes as well as being near to the Burren National Park, and within short drive of the Wild Atlantic Way this is an ideal location to get away from it all to relax and unwind.
There are fabulous walks from the door which we can either show you or give you maps to go it alone. Why not check out our Nordic Walking options?
Accommodation
Our self-catering accommodation is available all year round for either short breaks (minimum 2 nights) or longer stays. Choose from our cosy 1 bedroom Traditional Irish Cottage (Sleeps 2) or our more contemporary Garden Suite (Sleeps 2). You will not be disappointed with the attention to detail provided to ensure you have a comfortable stay.
Breakfast Baskets
Although self-catering we offer Breakfast Baskets for purchase filled with home baked bread, scones and granola alongside locally produced foods. Special diets catered for on request.
Activities
Step out of the door and head in the footsteps of the Cromwellian armies along the medieval pilgrim road to St Tola's Monastery and Dysert O'Dea Castle. Alternatively immerse yourself in the hazel woodland and listen to the flow of the water through the streams.
Why not join us on a Nordic Walk? Joanne & Tony are both qualified instructors in Nordic Walking. Ask us about are Nordic Walking Experiences from a 2-hour taster session to a full day of tuition and walks, which are provided through our sister company Nordic Fitness Ireland. https://nordicfitnessireland.com/ EMAIL: info@nordicfitnessireland.com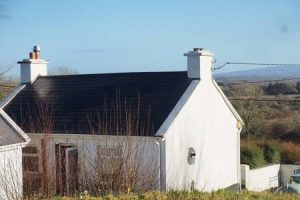 Burkedale House & Cottage