Burren Food Fayre 2017
The Burren Food Fayre Shines the light on
Wild Atlantic Food– 28th & 29th  October 2017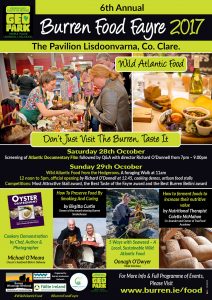 The Pavaillion, Lisdoonvarna, Co.Clare   Download Burren Food Fayre Program  
October Bank Holiday Weekend will see the 6th Annual Year of the Burren Food Fayre. The theme for 2017 is #WildAtlanticFood and it will bring visitors through a Foraging Walk with Oonagh O'Dwyer of Wild Kitchen, screening of an eco film Atlantic, food stalls and chef demonstrations. It is an opportunity for local producers to showcase their range of local produce from the Burren region.
The Fayre entry is FREE of charge for all visitors on Sunday with a donation request for those coming to the screening of Atlantic on Saturday evening.
Each year on the October Bank Holiday weekend The Burren Food Fayre plays a part in the festivities for the Winterage Festival, which is celebrated in the towns and villages of the Burren. This harvest celebration , at the end of the growing season, emphasises the unique way of farming  on the limestone land, culminating in a cattle drive to the uplands.
The Fayre will Open @ 7pm on Saturday 28th October 2017 with the screening of Atlantic followed by Q&A with Director Richard O'Donnell, Sunday the 29th October will start at 11am with a Wild Atlantic Food from the Hedgerows  Foraging Walk with Oonagh O'Dwyer of Wild Kitchen followed by the official opening of the Fayre at 12.45 by Richard O'Donnell, Wild Atlantic Food Market with Stalls of Local Produce and Tastings throughout the day, cooking Demos by Chef, Author & Photographer Michael O'Meara "Sea Gastronomy"," How to preserve food by smoking and curing" by Birgitta Curtin from The Burren Smokehouse, "5 Ways with Seaweed – A Local, Sustainable Wild Atlantic Food" by Oonagh O'Dwyer – Wild Kitchen and "How to ferment foods to increase their nutritive value" by Colette McMahon from The Food Academy.
The Fayre will close at 5pm after the Awards and raffle announcements until the next year.
Michael O'Meara, co-author of Oyster Gastronomy with Máirín Uí Chomáin (Artisan House 2017) and chef/patron of Oscar's Seafood Bistro will be doing a cooking Demo at this years fayre: "I love when I see an order come in to the kitchen for a dozen oysters – to me they are the real seafood lover's choice.  Oysters are the most sustainable of all foods – they require only pristine water conditions to thrive; no additives, no chemicals' and are so incredibly healthy".
The Burren Food Fayre is organised by The Burren Ecotourism Network and supported by The Burren & Cliffs of Moher UNESCO Global Geopark, Clare County Council and Failte Ireland.
For further information about the Fayre contact Raquel Noboa on info@burrenecotourism.com or visit https://burren.ie/food-dining/burren-food-fayre/