The fertile valleys of the Burren have long been known for their quality food and produce, particularly for the production of beef and lamb thanks to a unique and ancient system of farming. in recent years, this food tradition has expended through the emergence of many award-winning chef-led restaurants and high quality artisan food producers, as well as an increase in practicing market gardeners and growers.
We invite you to join us & get involved in our Burren food story. We are passionate about our food, growing and producing it locally for you to enjoy.  Burren Food Trail is more than a listing of quality food establishments in the area – it aims to uncover for you the path that your food takes from field to plate. You can decide for yourself how to follow the trail – stop at every point or else dip in and out along the way, according to your taste, interest and location.
The members of the Burren Food Trail are bound by their commitment to building a sustainable future for the region.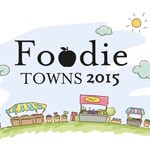 Each of the featured restaurants offers a Burren Food Trail Signature Dish to savour. Each member has achieved recognised quality awards and standards, and has also signed up to the Burren Food Trail Customer Promise: you will find staff who are knowledgeable about the regional food story, menus which state the source of local produce, information on local food events and markets as well as a commitment to maximise the use of local ingredients in all prepared food. We are proud winners of the European Destination of Excellence (EDEN) 2015 – Tourism and Local Gastronomy and Irish Restaurants Association Foodie Town 2015 title. 
The fertile valleys of the Burren have long been known for their quality food and produce, particularly for the production of beef and lamb thanks to a unique and ancient system of farming. in recent years, this food tradition has expended through the emergence of many award-winning chef-led restaurants and high quality artisan food producers, as well as an increase in practicing market gardeners and growers.
We invite you to join us and get involved in our Burren Food story. We are passionate about our food, growing and producing it for you to enjoy. Our themed trails and Burren Food Trail Events uncover the path your food takes from field to plate. Come along and meet the producers, dine in award-winning restaurants and learn about the fertile valleys of the Burren Geopark. 
The Market Garden Trail
The Burren valleys are home to many market gardens, farms and beekeepers. Come and discover the secrets of the gardeners, take a Cookery Master Class, pick some fruit, visit the Farmers Market where you can chat with the growers and enjoy the best of locally produced seasonal food.
Kinvara Farmers Market: Renowned for its friendly atmosphere, live music and vast array of fresh local produce and crafts. Kinvara Farmers market takes place every Friday
from April to November. Kinvara Farmers Market
Ballyvaughan Farmers Market: Established in 2003 this bustling and vibrant farmers market is recognise as a premium food market with wholesome quality food from local
producers every Saturday May to October 10am to 2pm Ballyvaughan Farmers Market
.
Burren Fine Wine & Food: Nestled in the hills of the Burren near Ballyvaughan a century old stone coach house we specialise in summer lunches, afternoon tea, quality wines and gourmet hampers with owner Cathleen's home-baking and gardening skills. For more information go to Burren Fine Wine and Food
Farm To Fork Trail
Farming in the Burren has traditionally focused on animal rearing with cattle, sheep and goats grazing on the rich herb grasses of the 'Fertile Rock'. Our specialty producers and restaurants showcase the rich flavour of the local produce. Take the Farm to Fork trail and visit family run farms, see the cheese been made using traditional methods or sample Burren produce at our many restaurant members below.
The Market House:  In Ennistymon, is a family run Butchers, Delicatessen & Cafe. Owner Sean Haugh is a 3rd generation farmer rearing livestock on his farm on the Cliffs of
Kilkee. The cafe & deli stocks the family's own beef as well as other local food products. More information go to Market House Ennistymon 
Glas Restaurant @ Hotel Doolin: Has a 30-mile menu where every ingredient is sourced in County Clare not more than 30 miles as the crow flies  from our hotel. Suppliers include Beef & lamb from Bernard Roughan, Ennistymon and Fiona Haugh, whole lobster & crabfrom Michael O'Connell of Doolin, Seafood by Garrihys of Doolin, organic vegetable & eggs by Moy Hill, oysters from Flaggy Shore Oyster, potato from Declan Pine, chocolate from Hazel Mountain, kombucha from Lunasa, cheese from Aillwee, St. Tola & Cratloe, chutney from Clare Jam, herbs and salads from our polytunnel, desserts and breads made in house from local ingredients. More information go to Hotel Doolin
 Sheedy's Hotel & Restaurant:  In Lisdoovarna, Chef John Sheedy's uses a variety of locally sourced produced in his menu, including vegetables and herbs from the garden. His signature dish is Rack of Burren Lamb with a herb crust served with local New Quay spinach. John source his ingredients from local artisan producers. More information go to Sheedys Hotel
Gregans Castle Hotel: on the Corkscrew hill, Ballyvaughan, the hotel has recently established an extensive vegetable and herb garden, with all the produced used by the Head Chef. The hotel also supports local food producers including lamb from nearby Kilshanny.  More information go to Gregans Castle Hotel
Wild Atlantic Lodge:  In Ballyvaughan, the Wildflower Restaurant uses fresh local produce, including their own meat which is reared on their farm in Kilkee, as well as other lamb and beef which comes from the Burren. For more information go to Wild Atlantic Lodge 
Hylands Burren Hotel: A long established family run hotel in the village of Ballyvaughan which uses local and seasonal food on its menu, including cheese from nearby Aillwee Burren Experience. For more information and menu go to  Hylands Burren Hotel 
Taste of The Ocean Trail
The Burren sits on Ireland's Wild Atlantic Way. The Stunning coastline of dramatic cliffs, sea cave and inlets produces wild & fresh seafood in abundance. Discover the taste of
the Ocean with seaweed foraging walks, workshops, tastings and a little indulgence from our award winning restaurants.
Burren Smokehouse:  In Lisdoonvarna discover the secret of how we smoke and handcraft our Irish Organic Salmon following an ancient tradition. View the Kiln, watch the smoking process
on DVD and taste the organic salmon in our visitor centre. For more information go to the  Burren Smokehouse
Wild Kitchen:  Based in Lahinch this business promotes willd food is seasonal, local, nutritious and free! Take a wild food walk on land and seashore, taste edible wild plants, learn plant folklore, recipes and identification tips, walks can include a picnic lunch and or cookery demos, we create "pop up" wild food experiences in unusual venues.
Flaggy Shore Oysters Experience  Is owned by businessmen Conor Graham and Mark Commins who offer Oyster Shucking and tasting experience on their premises, which includes an educational workshop into how oysters are farmed, how their environment influences their taste. Afterward they can dine next door in Linannes' Lobster bar which is also part of the same same business. 
Linnane's signature dish is a seafood platter of organic smoked salmon, prawns, crab meat, crab claws, mussels and clams, served with traditional homemade brown bread. More information go to
Linnanes  
The Roadside Tavern: Offering a great place to relax with traditional music most evenings and an award-winning menu which includes Burren Smoked salmon and smoked oysters from the Flaggy Shore. More information go toThe Roadside Tavern/
Monks Ballyvaughan: Renowned for fresh, local produce, great service and a warm welcoming atmosphere. Nothing compares to enjoying local seafood and Irish cuisine
while overlooking stunning vistas of Galway Bay. More information go to Monks Ballyvaughan 
Burren Food Experiences
To illustrate the wealth of food experience in the Burren we produced videos so showcase some of the villages that have a rich food culture. In each of the villages of the Burren, you can meet the producers, sample the food and dine in restaurants and hotels, all serving fresh locally produced food. We encourage all visitors to the Burren to travel in a sustainable way as possible, by bike, local bus or bus. 
Ballyvaughan –  This video suggests a short food trail through the village of the Ballyvaughan, incorporating breakfast at Hylands Burren Hotel  cheese tasting at Aillwee Burren Experience and experience a real Burren farm, with prehistoric fort at Caherconnell Stone Fort & Sheepdog Trials
Ennistymon – This video suggest how you can avail of the best food experience in Ennistymon. Stay overnight stay at the Falls Hotel & Spa followed by a cycle St Tola Goat Cheese to meet the goats and taste the cheese ending with a lunch of local foods at the Market House Ennistymon
Doolin – This video suggests you take a tour starts at Hotel Doolin  with an overnight stay and breakfast of local foods, followed by a short walk to Doolin Cave to see one of the Europe's biggest stalactites. After this explore the nature walk and enjoy lunch at the cave.
Kilfenora– This video suggests a range of food experience in he hisoric village of Kilfenora. You can enjoy a leisurely local breakfast breakfast iif you have booked into the unique glamping unit on Burren Glamping in a small farm near Kilfenora, before cycling with E Whizz Electric Bikes through the Burren and arriving at the historic village of Kilfenora and the newly renovated Burren Centre End the day with dinner at Vaughans Pub
Liscannor – This video suggests a food trail through the pretty village of Liscannor. Start with an overnight B and B at Vaughans Liscannor before travelling to Moher Cottage for coffee, sweet treats and a browse of the store. Then it's on to Clahane shore followed a trip to the Cliffs of Moher Experience for a walk along the cliffs, followed by lunch in the cafe. At the end of the day you will return to Vaughans Liscannor for a fresh seafood dinner.
Lisdoonvarna – This video suggest a Burren Food Trail through the historic village of Lisdoonvarna. Our Food Trail, begins at the  Burren Smokehouse in Lisdoonvarna, Ireland's best known artisan seafood producer Learn about how salmon is cured and smoked. You will continue your journey next door to Taste the Atlantic, a fully interactive visitor experience learning more about the heritage of Irish salmon. Next door  you will visit Burren Brewery,  a microbrewery above the Roadside Tavern which produces craft beer inspired by the Burren. Finally it's a short drive or cycle to the Burren Distillers in Ballyvaughan. Here, an ancient Irish whiskey is being produced in the heart of the Burren.
Taste The Burren Events 2023
The Burren Food Trail members organise an annual series of events, taking place at unusual locations around the Burren. They are a celebration of local, wild and seasonal produce of the Burren, as well as a chance to meet the producers, mingle with local people and learn about the Burren way of life. These events focus, not only on food, but also on the landscape that surrounds it. Each individual event represents a unique opportunity to combine good food with real, authentic interaction with the people who produced or prepared it, or indeed with the surrounding landscape, activities and heritage
The Burren Food Fayre October 29th 2023
The Burren Food Fayre will again be held as part of the Burren Winterage Festival in the Burren on Michael Cusack's GAA pitch, where the Burren Beo Cattle Drive will begin.
 Please note the Burren Food Fayre on Sunday 29th October will be held at Michael Cusack's GAA Pitch near Bellharbour in County Clare and includes both the Cattle drive walk, and the Burren Food Fayre which is being organised by the Burren Ecotourism Network. Visitors are encourage to be at the event at 10am, the walk starts at 11am and the food fayre will run until 4pm.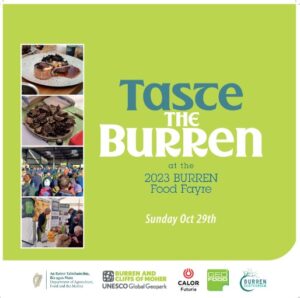 Exact location will be emailed to ticket holders closer to time. Numbers are limited.
Ticket link: https://buytickets.at/burrenbeotrust/1024872
https://www.youtube.com/watch?v=XOR_9i4A1Zs
For more information on the Burren Winterage event go to Burren Winterage 
The Burren Slow Food Festival May 2023
Organised by the Burren Ecotourism Network, Slow Food Clare, the Burren and Cliffs of Moher UNESCO Global Geopark, the Burren Slow Food Festival event has been a highlight of the Irish food calendar since 2005.This year the event was included in the Burren Wellness series of events in May which is organised by the Burren Ecotourism Network.
Presentations were varied and included an Oyster shucking workshop with Conor Graham from Flaggy Shore Oysters, a cheesemaking workshop with Sinead Ni Ghairbhith from the Cheese Press, as well as cooking demos in the Calor Kitchen. These included those given by Hotel Doolin chefs Jamie Hagan and Glynn Trollip  as well as Chef Peter Jackson from the Roadside Tavern and the Burren Storehouse. Wellness talks on the day included the benefits of sea swimming by June Curtin ( Snamhaisasta) the benefits of walking by Pius Murray and a talk about Spa treatments from Caroline Keane from the Falls hotel. There was also a presentation by Carol Gleeson, Manager of the Burren and Cliffs of Moher UNESCO Global Geopark talked about the success of the GEOfood concept, a global brand that promotes local food in UNESCO global geoparks. Since the launch of GEOfood in the Burren last year the network has continued to grow, with four new producers joining the existing nine. There are plans to develop the concept further in the coming months. This year's event was sponsored by Calor Gas Ireland and supported by the Department of Agriculture, Food and the Marine.
.
Burren producers join GEOfood initiative in 2021
Nine members of the Burren Ecotourism Network have now joined the international GEOfood initiative. GEOfood is a global brand that promotes food that is sourced and produced in UNESCO Global Geoparks. GEOfood emphasises the connections between local food and the food traditions and geological heritage of the region where the food is produced. It is a brand that focuses on strengthening local livelihoods by connecting local food producers, restaurants, and retailers to each other. GEOfood increases opportunities for local people and visitors to savour and appreciate quality local food. 
The businesses who joined are Aillwee Burren Cheese, Burren Beef, Burren Food and Wine, Burren Smokehouse, Burren Free Range Pork, Flaggy Shore Oysters, Linnalla Pure Irish Ice Cream, St Tola Irish Goat Cheese and Wild Kitchen. For more information on the GEOfood initaitve in the Burren go to Burren GEOfood
These events are supported by Clare County Council Festival Funding and by the Department of Agriculture, Food and the Marine.