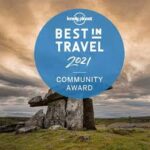 Burren Slow Food Festival 2021
The Burren & Cliffs of Moher UNESCO Global Geopark
Making up over 530 square kilometres the Burren and Cliffs of Moher Geopark offers a diversity that is second to none. There is the natural beauty of the 214 metre (702 feet) high Cliffs with its eight kilometres of rugged coastline, and there is beauty in the vast array of flora, including Arctic and Alpine flowers that grow surprisingly alongside Mediterranean species. There is also the staggering amount of history in the Burren region with over 2,700 recorded monuments, some dating back over 6,000 years. This has led to the Burren being described as "one vast memorial to bygone cultures".

Stay
Hotel, Self Catering, B&B or Glamping, we have it all.
Taste the Burren
Our award winning Food Trail!
What To Do
Explore What The Burren Has To Offer
Bring the Burren Home
Shop our ever increasing list of products from the Burren
What Our Visitors Say
Our biggest fans
Facebook
We have been visiting the Burren and Doolin in particular for the last 24 years and it has a special place in our hearts.
Facebook
The Burren is my all-time favourite place in Ireland.
Facebook
The Burren is a beautiful unique and interesting foodie place, what a great way to start afresh after all this confinement.
Facebook
The Burren & Cliffs of Moher Geopark is absolutely amazing and a gem on the Wild Atlantic Way.
Facebook
The Burren is such an amazing geographic and food lover's heaven.
Facebook
I go back as often as I can because I love the most magnificent surroundings and enjoy the wonderful hospitality of the Burren.
Facebook
There's no better place in the whole world that the stunning Burren scenery.
Facebook
It is many years since I have had the pleasure of visiting the Burren, one of the most beautiful places in the world.
Facebook
We love to visit the beautiful Burren and soak up some amazing culture, sample some amazing food and drink and stay in fantastic accommodation.
Facebook
I love Burren especially all the wildflowers and the food experience❤️❤️❤️ I can't wait to go back there again
Facebook
We love the Burren and surrounding area, no place on earth like it .... and the Burren Gold ? food lover's paradise.
Facebook, USA
My wife loves that side of the country the scenery is just breath taking