What we do as a network
Ecotourism is about maximising the positive impacts of tourism for everyone and everything. Ecotourism encourages conservation of the biodiverse landscape of Ireland. If everyone working in tourism worked with the same eco-principles, then there would be a nationwide change in attitude towards keeping Ireland green.
Code of Practice
Achieving sustainable standards in tourism is a key principle of the Network. It is vital that businesses can demonstrate a fundamental level of sustainable practices before accessing the benefits of membership. This level is defined in the Geopark Sustainable Code of Practice for Tourism.
This unique code requires tourism enterprises to develop an environmental policy and Environmental Action Plan for their business and to implement certain practices in the areas of energy consumption, waste management, water conservation and protection.
It also addresses areas such as responsible marketing, visitor interpretation, green purchasing, and sustainable transport. Importantly it requires all businesses to complete Geopark Leave No Trace Awareness Training and to observe Leave No Trace principles at all times specialised Leave No Trace training is provided.
A highly practical training programme provides members with a step-by-step guide towards achieving the Code.
Carbon Neutral Businesses
The only two Carbon Neutral hotels in Ireland are members of the Burren Ecotourism Network; Hotel Doolin became the first business to receive this status in 2019, with the Falls hotel in Ennistymon following in 2021. Both businesses received a carbon neutral status from Green Hospitality Ireland for their impressive range of waste reduction and energy saving measures which both hotels adopted. Other businesses in the network are also moving towards carbon neutrality; Nagles Camping and Caravan Park in Doolin is powered by 22 solar panels and Drumcreehy house in Ballyvaughan receives much of its energy supply from a new state of the art wind turbine.
Electric Power Points
Throughout the Burren area, there a number of electric car charging power points; three are in Burren Ecotourism businesses: http://hoteldoolin.ie, https://stonecutterskitchen.ie and http://doolincamping.com For a full list of locations in the Burren area go to https://esb.ie/ecars/charge-point-map
Burren Clean ups
During the year the Burren Ecotourism Network organises regular clean ups in different areas of the Burren in conjunction with Burren Beo, Tidy Towns and An Taisce. All members of the community are welcome to join. Keep an eye on Social media for more details.
Burren Bags
Each business in the network is offering visitors a chance to purchase a specially designed 'Burren bag' for rubbish disposal while visiting the Burren. This is a new initiative to encourage visitors to leave no trace and take all their rubbish home to be disposed of responsibly.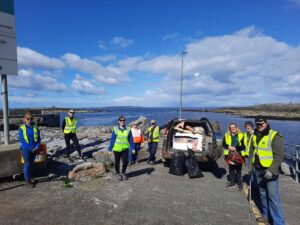 Refill Points
The Cliffs of Moher is proud to support www.refill.ie an environmental project aiming to make tap water refills friendly for everyone while on the go and ultimately protect our environment from bottle waste. The Cliffs of Moher is the first business in the network to install a Refill station, with many more refill stations in the pipeline. For a full list of refill stations in Ireland go to https://refill.ie/tap-map/
Biodiversity
The Burren with its unmistakable limestone pavement landscape and grassland habitats is home to many rare and unusual plants such as the dark-red Helleborine, autumn Lady's Tresses and the spring gentian; while pine martens, fungi and lichens inhabit hazel scrub and woodlands. On lower ground, turloughs empty and fill seasonally, providing important grazing for cattle and habitats for rare flowers such as the Turlough Violet. Protecting this unique environment is part of the Burren Ecotourism ethos, with all members committed to protecting and promoting the unique biodiversity of the area.
The Burren Ecotourism Network provides a biodiversity training and development programme for all its members, encouraging them to develop their own biodiversity action plan for their local area.
The Burren Nature Sanctuary located in Kinvara provides an ideal introduction for visitors to understand the unique and delicate biodiversity of the Burren. It houses a botany bubble, which is a national living collection of the Burren flora in season which showcases the unique and diverse Burren geology and flora where Alpine, Meditteranean arctic and tropical plants grow alongside native Irish wildflower. There is also an audio walking guide which brings the landscape to life and can be used on site on walks along the rocky Burren landscape.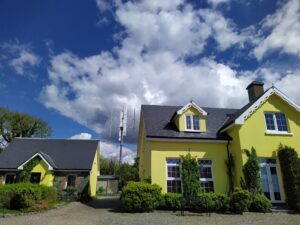 Earth Day
Every year the Burren Ecotourism mark Earth Day by getting involved in an initiative that raises the awareness of environmental issues in their local area. This year the group joined forces with other community groups in the region to tackle head on the crisis of litter management. The group organised local clean ups, pro active social media campaigns and worked with Clare County Council, Clean Coasts and Leave no Trace. This year was about creating awareness of how everyone can play a part in keeping the Burren clean and free of non-biodegradable e waste. During the year the group also work with Burrenbeo and Tidy Towns to keep their local area clean.
Support the Burren Pine Project
We are proud supporters of the Burren Pine Project, an ecological restoration project by a local landscape charity, the Burrenbeo Trust. This project aims to restore Ireland's only native pine species which was thought to have been extinct until it was rediscovered here in the Burren. Would you like to support this project with your donation? Any amount helps. All proceeds will go directly to the Burrenbeo Trust.
Find out more about the Burren Pine Project at https://burrenbeo.com/the-burren-pine-project/
Or scan the QR code: