Businesses listed on this site are members of the Burren Ecotourism Network and adhere to the Burren and Cliffs of Moher Geopark Code of Practice.
The Burren Ecotourism Network is a network of tourism enterprises with the objective of establishing the Burren as a premier internationally-recognised sustainable tourism region ensuring the future economic and social growth and sustainable development of its communities, environment and heritage. Firstly It seeks to support continued training, mentoring and accreditation in sustainable tourism for its members and for businesses interested in joining the Network.
Furthermore, the Network aims to be a recognisable network of enterprises in the Burren, who have achieved independent accreditation, demonstrate ecotourism 'best practice', positively discriminate in each other's favour, provide 'one voice' representation on issues impacting the Burren (where appropriate), and inspire conservation activism.
The Burren Ecotourism Network and the Geopark have enjoyed a special relationship since 2008 when the Burren Connect Project first instigated the establishment of the Network. The two organisations now work in partnership, having agreed in late 2012 to pool their resources in pursuit of their common objective. Both organisations are committed to the promotion of responsible tourism that conserves the environment and improves the well-being of local people. Finally, they work together to promote 'The Burren & Cliffs of Moher Geopark' as a leading sustainable visitor destination, celebrated for high standards in visitor experience, conservation, and learning.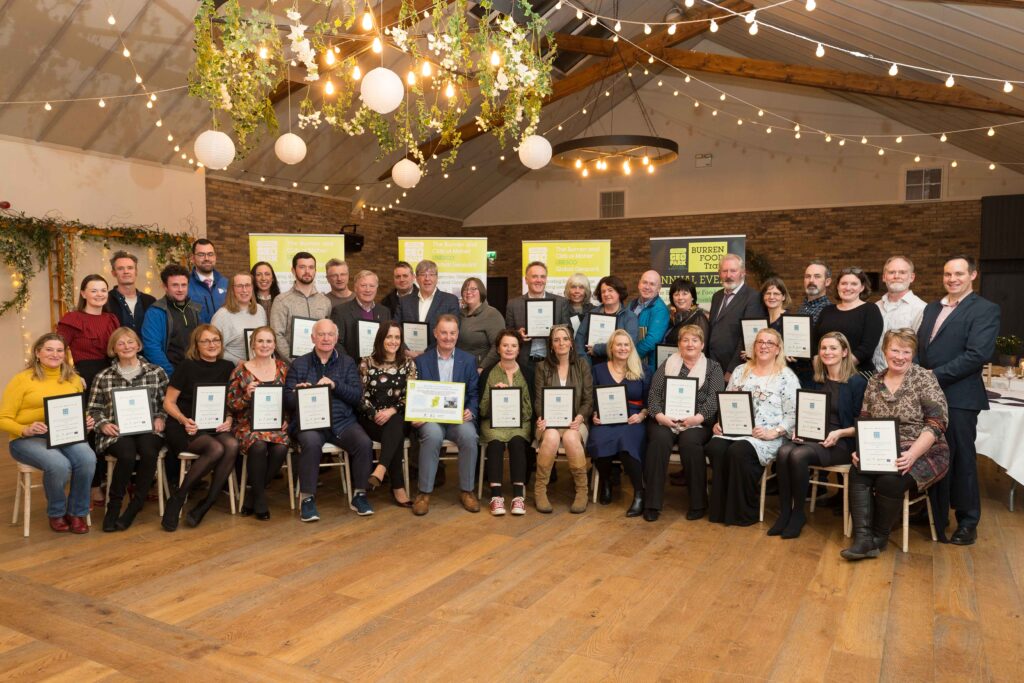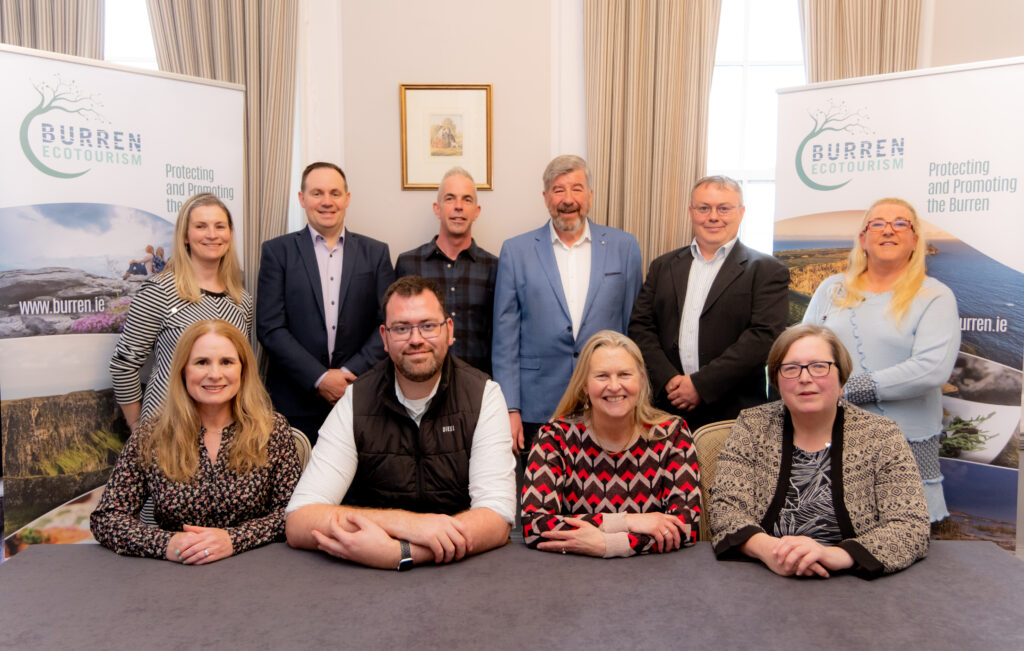 Aillwee Burren Experience
Aloha Surf School
Aran View Filling Station
Burren Court Holiday Homes
Burren Distillery
Burren Experience Guided walks
Burren Farm Experience
Burren Fine Wine & Food
Burren Free Range Pork Farm
Burren Nature Sanctuary
Burren Outdoor Education Centre
The Burren Smokehouse
Cafe Linnalla icecream
Caherconnell Fort & Sheep demonstrations
Castledarcy Glamping
Cliffs of Moher Centre
Cliffs of Moher Hotel
Cliffs Of Moher Retreat
Cormacs Coast
Doolin Cave
Doolin Ferry Co.
Doolin Inn
Doolin Pantry
Doolin Yoga
Dysert O Dea Castle
Doolin Campsite and Caravan Park
Drumcreehy House
e-whizz electricbikes
Falls Hotel & Spa
Fiddle and Bow Hotel
Gregans Castle Hotel
Hazelwood Lodge
Hotel Doolin
Hylands Burren Hotel
Inagh Farmhouse Cheese
Irish T Shirts
Lahinch Golf Club
Lahinch Leisure Centre
Limestone Yoga
Linannes Lobster Bar
Lisdoonvarna Failte
Burren Hostel
Market House Ennistymon
Michael Cusack Centre
Merriman Hotel
Moher Cottage
Monks Ballyvaughan
Newtown Castle
Roadside Tavern Lisdoonvarna
SeaView House Doolin
Sheedys Hotel Lisdoonvarna
Slow Cabins
Slieve Elva Bed & Breakfast
The Burren Centre Kilfenora
The Clare Jam Company
The Cliffs of Moher Retreat

The Lady Gregory Hotel
The Lodge Doolin
The Ritz Lisdoonvarna
Vaughans
Vaughans on the Prom-2
Vaughans Guest House
Walk with Pius
Imperial Hotel Lisdoonvarna
Wild Atlantic Lodge
Wild Catering
Wild Honey Inn
Wild Kitchen
Wild Meadow Huts