Last year I decided to visit the world famous Cliffs of Moher in the west coast of Ireland, having 3 days to myself I wondered what else could I do while in the area and jumped into the world wide web to do some research before hand. Boy was I shocked to find out how much is there to do!! From cruises under the Cliffs and on to the Aran Island, visitor centres, amazing walking routes, cycle, surfing, caving, climbing the list goes on. So here is an insight on my top ten MUST see: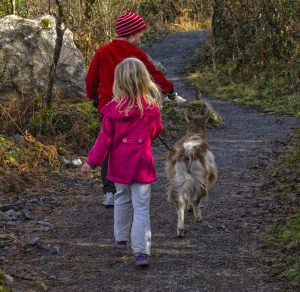 The Burren Nature Sanctuary: I started my journey in Kinvara, the first village north of the Burren and Cliffs of Moher UNESCO Global Geopark. The Sanctuary is set on a 50 acre organic farm and is a nature's lover's paradise. I wondered along the mile long nature trail of the farm, they had an audio guide that spoke about the Burren habitats of karst limestone, ancient hazel and ash woodland. Arriving to the top of the trail I stood still admiring the turlough lake (this is a tidal lake that disappears and re appears according to the tide!). Unfortunately I did not have time to wait for this phenomenon of nature to happen, but I did relish on the site of the Wild Flower meadow and its hundreds of butterflies. Coming back to the centre and the café area I saw a group of children and adults heading out to the forest with Emilia the micro pig and frisky the goat, I had got to see that! So I joined the group amongst the families on a walk through the fairy   woodland. A
Aillwee Cave and Birds of Prey Centre: Heading south on the N67 and a short 20 minute's drive I arrived to the seaside village of Ballyvaughan and headed for Aillwee Cave. I was shocked to find so many things to do at the caves, initially I thought I would just do the cave tour and learn about the bears that used to live there, but on arrival I discovered that there are over 50 raptors at their Birds of Prey centre, a Farm shop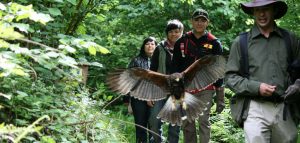 where they make their own cheese in front of your eyes and you can even join one of their Hawk! Of course I had to sample and buy some cheese, too good not to!
And then I joined one of their guides, an experienced Falconer, on an hour long 'Walk with a Hawk' through hazel woodland and across Burren Limestone pavement. This was a totally unique experience and I am so glad a stumble upon it at Aillwee.  The hawk walk experience also included a guided cave tour of Aillwee and entry to the Birds of Prey Centre inclusive of flying displays, while initially I was meant to spend about an hour here I ended up delaying my departure by 3 hours, well worth the delay…
Burren Free Range Pork and Glamping: Since I had got quite delayed on my plans I decided to head to Kilfenora to check into my accommodation of choice at Burren Glamping. Just 2Km outside of Kilfenora I met Eva and Steven, the farm owners where my cosy and quirky converted horse truck awaited my arrival! I had seen pictures of it online and the real thing did not disappoint! I had a chance to meet the farm animals: rare breed pigs, cattle, 2 donkeys, hens & ducks, 2 dogs and a cat. My idea of heaven! Breakfast next morning at Eva's kitchen was possibly the best breakfast I've ever had, the sausages and bacon are from their very own free range pigs, eggs from their hens and greens from their own polytunel, it does not get any fresher than that! With a heavy heart I had to leave this hidden gem to continue on my travels.
Burren Experience Guided Walks: Early morning I had arranged a guided walk with Marie from Burren Experience Guided walks, there are many different walking routes in The Burren, many of the them self-guided, but I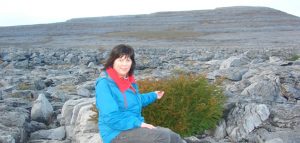 really wanted to learn more about this beautiful lunar like landscape so I booked a walk with Marie and I am so glad I did! It is a fresh spring morning and we are blessed with some sunshine, Marie has a warm and friendly personality and I truly enjoy our conversation. She tells me about herself and how she grew up here on the family farm and because of this she developed a deep love and connection for the landscape. She explains how her father farmed the land in the traditional way and with the help of the family built roads and walls as part of this farming practice, I know I am in the presence of many generations. While we are walking towards Mullaghmore Mountain, Marie asks me if I would like some time on my own on the mountain, quiet time… she says. I immediately say yes, it is as if the mountains are calling me to immerse myself completely in this wilderness and absorb the peace, stillness, and beauty of this magical ground. As I climb onwards and upwards I feel elated by the breath-taking views and uninterrupted silence. I come away from the mountain feeling overjoyed and enriched for having had the opportunity of walking with Marie and being physically present in this landscape called the Burren, A Magical Portal into Ireland's Soul she called, and now I really believe it.
The Burren Smokehouse and The Roadside Tavern: Having worked an appetite during my walk I could not pass the opportunity to visit Lisdoonvarna, home of the now world famous Matchmaking Festival! I enter the Burren Smokehouse visitor centre and I am lucky to meet Birgitta, owner of the smokehouse and also married to Peter Curtain who owns the Roadside Tavern only a few doors away. Peter is full of stories of the area, folklore and music, legends and truths, I could not have met a nicer couple. I learn about the ancient method the use to smoke their fish, the same since the beginning of their business and put in place by Peter. I watch the visitor video and sample some of their produce at the centre. Walking a couple of doors up the road I sit in the Roadside tavern and order their Hot Smoked salmon dish, delicious is an understatement. Peter arrives into the pub and I am delighted to see him again, he has been brewing some beer while I've been tucking into my lunch, there is a small microbrewery overhead us and I am delighted to sample his Burren Black, Burren Gold and Burren Ale. After this beer tasting I order a coffee and of course there is another local story behind it! Anam coffee is served in many establishments of the Burren, Peter tells me the coffee roaster is only a few miles away and it is run by Brian, I write down his details so I can include him in my next visit, because at this point and only in day 2 I know I will have to come back again!
Doolin: Leaving Lisdoonvarna I head for the coastal fishing village of Doolin, I have heard so much about the Irish traditional music in Doolin that I have pre booked a stay at Seaview House, a boutique B&B run by husband and wife Nial and Darra. There is a warm welcome and the smell of freshly ironed sheets on my arrival, the room is spacious with loads of natural light, temperature controls and tasteful designs, a fabulous hidden gem in the heart of Doolin. After some sound advice from Nial I head to Ekotree knitwear studio at the edge of the village, taking a right after the church I see the beautiful cottage that hosts the studio surrounded by a wild flower garden. Inside the studio the fabrics come alive, cashmere, merino, bright colours, calming blues, greys and browns that remind me of the limestone pavements I walked on this morning. At their visitor centre I learn this is Ireland's only knitwear studio where visitors get a thorough insight into the daily workings of a designer-maker, it is fascinating to see them in action. I can't stop myself from buying a scarf…and a shawl…and a hat, but that's it, time for some music!
Heading back to the village I stop at Fitzpatrick's bar in Hotel Doolin, Nial had told me to taste the Dooliner Beer, specially made for this pub, it is a dark brown colour with an ale taste, it is creamy and soft and I am surprise myself by orderin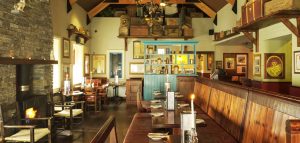 g another one, this time a pint not a glass! I enjoy some delicious seafood, the dish is called the Aran Currach and is presented as a tower of seafood, when the lovely waiter told me it was to be shared by two I did not listen, I should have, trying to eat it all as it is too delicious not to, I give up midway there, with a slight pinch on my waist! As it is Monday I did not expect the place to be this busy, but as soon as I finish my dinner I understand why, the Wild Atlantic Monday Sessions are just starting, life music on a Monday who would have thought! "Miss there is music in Doolin every day of the week" I am told by a cheeky barman. I enjoy the session, there are several musicians coming in out of play, with soft ballads and Irish trad I find myself in the middle of a real Irish Hooley! Another Dooliner beer and time for bed, thank god it is just  short walk back to Seaview House, I shall collect my car in the morning.
Breakfast at Seaview house is a real fest to the senses, with local and mostly home grown produce from their farm and garden I start to wonder how this rocky place can produce such a fine food everywhere I go. Nial tells me about the ancient story of the Fertile Rock and how the Burren Food trail was created back in 2013, I take notes again for my next visit, a Taste the Burren Tour, mmm…Interesting.
As this is my third and last day it is all about The Cliffs! While they were my first reason to visit the area it is definitely not the only gem of West Clare. Again following Nial's advice I decide to do a 360 tour.
Starting with a boat ride from Doolin Pier, there are two companies here doing cruises daily, Doolin 2 Aran Ferries and Doolin Ferry, I book my cruise and I marble at the bird's eye view of this dramatic coast line, arriving just under the cliffs the boat gets so close to the sea stack that I can nearly touch it! Hundreds of birds nest and fly off the rugged surface of the cliff edge, it is a truly amazing scene. Back in dry land I take the bus loop bus from Doolin to the Cliffs Visitor Centre, paying my entry fee into the Visitor centre I wonder around their gift shop and remind myself to buy some gifts to bring back home. There is a gallery area and heritage centre with a beautiful short video of birds, I learn about the puffins and the Geology of this natural mastermind. Heading out into the wild wind again I make my way up to O'Brien's tower which marks the highest point of the Cliffs, from there I keep walking by the cliff edge, crossing streams and breath taking rural beauty, with the green fields of local farmers in one side and the Atlantic in the other, it does not get much better than this! As I am going downhill for most of my journey it only takes me an hour and a half to get back to Doolin and my car. With a heavy heart it is time for me to leave, but I am not empty handed, I have wonderful memories that will last me a life time, I have been bitten by the Burren Bug, I have succumbed to its charms and it will remain as one of my favourite parts of the world, I can not wait to plan my next trip.
Top Tip: When planning a visit use www.burren.ie to book the best guides, visitor centres, accommodation options and activities, all the businesses mentioned on this website are members of the Burren Ecotourism Network so by teaming up with them you are not only experiences the best The Burren has to offer but you are also contributing to the conservation of this magical area.