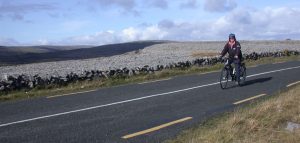 The Burren is an amazing place to explore, and what better way to see it at its best, than on a bike?  You will see more of the countryside than in a car, and cover more mileage in a day than on foot.  And there's no need to worry about finding a safe parking place for those off the beaten track places.
But if you are concerned about your fitness levels for cycling in the Burren, then don't be – there is a now a new way to enjoy the benefits of cycling, and to be certain that you will be able for the mileage, as well as the hills and the headwinds.  You can use a pedal assist electric bike.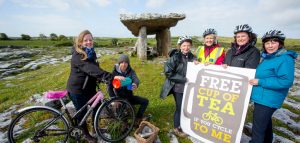 The electric bikes we use at e-whizz for guided and self guided tours and for bike hire are Kalkhoff pedelec (pedal assist) electric bikes.  The rider must pedal the bike to get the electric motor to run, and they can be used with the motor on low, medium or high.  So it is still necessary to get physical exercise while cycling,  but you will get a good bit of help when you need it up those hills.
Our customers range from 16-80, and the fitter folk can hire a standard 24 gear bike if they prefer.  This will suit many family groups, with a mixture of fitness levels, and ensure that everyone has an enjoyable and relaxing day out.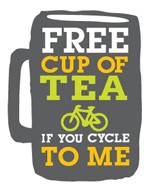 So where can you go in the Burren on a bike?  We are blessed with a huge number of small backroads in the Burren, where there is very little traffic, and surfaces are of a high quality.  This means you can go pretty much anywhere in the Burren on a bike, and be within a short walk of even the most inaccessible of dolmens, holy wells or ring forts.
With an electric bike even the rustiest of cyclists can easily cover 30 miles in a day, and the bikes have a range in excess of 60 miles for those who are more adventurous.  Our 2 favourite routes are:
Kilfenora to Liscannor via quiet backroads, then the Cliffs of Moher (free entry if you are on a bike!), on into Doolin and back via the quiet backroads of Kilshanny.  A total of  40km (24 miles), with fabulous scenery and plenty of options for stops for coffee, lunch or a drink.  Ideal for a full day out at a relaxed pace.
The historic village of Kilfenora to the ancient sites at Noughaval, Caherconnell and Poulnabrone, into Lisdoonvarna, then back to Kilfenora via Kilshanny.  And not a main road in sight!  This route is a total of 30km (18 miles) and again, you are spoilt for choice if you are looking for tea or coffee, a creamy pint or a good hearty lunch to keep you going.
If you want to do your own route, then make sure to get a good, waterproof map such as one from the XploreIt series, which will cover the whole of the Burren, and shows every byroad and village.
So don't be afraid of getting back on the road and cycling, stick to the back roads, take your time, chat to the locals and breathe in the fresh air and the scenery.   It's amazing fun, and you experience so much more than in a car.
So it's a new year, out with old and all that, new prospects, resolutions and dreams, go for it. But it's cold outside and the couch is comfy and there's loads of time for turning over that new leaf, walking more, eating less, tomorrow I promise.....
In 2014 the Burren & Cliffs of Moher Geopark will become more accessible than ever before. Never has it been so easy to get here. With lots of new flights (especially with Ryanair starting in April) and an increase frequency of flights on existing routes to the local International Shannon Airport.
In the climate we have been in for the last few (7ish) years, the new year brings more of 'will I survive this year' than a spirit of new year positive resolutions. The difference however in the last 3/4 years is that as a member of Burren Ecotourism you don't feel that isolation.