Press Release: 'Walking on Sun Shine' at The Outing offshoot of the historical Lisdoonvarna Matchmaking Festival Ireland
Katrina (ex Katrina & The Waves) headlines this year's Lisdoonvarna Matchmaking festival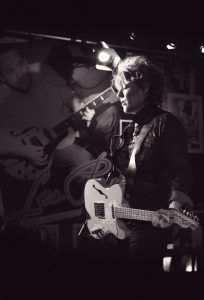 It's 30 years since one of the BIGGEST Summer Time Classics! "Walking on Sunshine". What better way to celebrate than with the orginal lead vocalist Katrina?
Katrina (ex Katrina & The Waves) is going to be playing live at The Outing Lisdoonvarna LGBT Music & Matchmaking Festival 2nd – 4th October 2015. In 1997 Katrina and the Waves' 'Love Shine A Light' won the Eurovision Song Contest with the largest ever margin.
The Outing Lisdoonvarna LGBT Matchmaking & Music Festival Co. Clare Ireland, October 2nd – 4th 2015 is hosted by Panti Bliss. Now in its third year, the fast growing offshoot of the historical Lisdoonvarna matchmaking festival is back and bigger than ever. With pop-up clubs, drag performances, comedy, live music, GAZE Film Festival on tour, art exhibition and interactive events, it's a guaranteed craic-filled weekend away on Ireland's stunning west coast and part of The Atlantic Way.
This rural alternative to the popular Fire Island in New York to Gay Prides around the world is perfect for Irish and international travellers who want to head a little off the beaten track. Yes 'You're Not The Only Gay in This Village' as Panti said 'An LGBT weekend away like no other. I'm only just recovering from last year's craic!' Join us for music, fun, and hopefully a love filled weekend!
Panti Bliss, host of The Outing, said "The Outing takes something quintessentially Irish and dips it in glitter. It opens up the idea of "traditional Irishness" to the LGBT community and says, actually, yes, you can be LGBT and still be as Irish as the Lisdoonvarna Festival."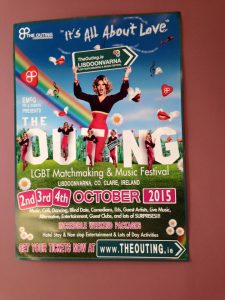 This is the LGBT music festival to be at. We take over this wee village; their hotels, bars, and venues for the weekend 2nd, 3rd & 4th of October 2015. This weekend is not just for gays and lesbians (LGBT) and it doesn't matter if you are taken (lucky you!)…. "It great fun and unlike anything else anywhere in the world, a unique experience, as Irish as it is gay!" said Panti Bliss
We're inviting everyone to The Outing Lisdoonvarna LGBT Matchmaking and Music Festival, straight or otherwise. Our weekend is full of entertainment and has something to suit everyone, so bring your friends along too! This is a party not to be missed as 'It's All About Love' and finding the person of your dreams while having fun, Irish style.
Some of the acts and DJ's at this year festival are Katrina ex Katrina & The Waves, Horse Meat Disco, The Nualas, Katharine Lynch, Patrick James (winner of Voice of Ireland), Willie Daly (last Irish matchmaker), Brendan Courtney host 'Blind Date', Charlie Healy (THE RISK) X Factor UK, Irish & International Drag artists Jonny Woo (London), Le Gateau Chocolat, DJ Karen, DJ Mo and Ger (The George) including local favourites Sheila Fits-Patrick and Madonna Lucia. Let's not forget we will be teaching people how to Ceili (Irish Dance) and most importantly host by Panti Bliss.
Find out more here www.theouting.ie
Bio
Katrina Leskanich is the lead singer from the Grammy nominated band, Katrina & The Waves. The band got their first break in 1984 when The Bangles covered their song, 'Going Down to Liverpool'.
In 1985 'Walking on Sunshine' was a top ten hit all around the globe and has since featured in countless advertisements and films including, High Fidelity, Secret of My Success, American Psycho and Walking on Sunshine and it's been covered by Dolly Parton and was a mash up with Beyonce's 'Halo' sung by the Glee cast. Follow up hits were, 'Do You Crying' (US Top 40), 'Sun Street' (UK Top 30), 'That's The Way' (US #16). Katrina also sang back up vocals on 'Torn' by Natalie Imbruglio and has recorded songs with Eric Burdon and Rick Wakeman. In 1997 Katrina and the Waves' 'Love Shine A Light' won the Eurovision Song Contest with the largest ever margin, followed by an unprecedented four consecutive appearances on Top Of The Pops and a No. 3 in the UK Charts. Following the split with the Waves in 1999 Katrina pursued an alternative career on radio and TV. She was a TV presenter on Watchdog on BBC1 and had her own show on BBC Radio 2 – where she presented a three-hour show, five days a week. This was followed by a stint in musical theatre, where Katrina played the lead role (the songwriter Ellie Greenwich) in Leader of the Pack, singing some of the songs that had influenced her as a young singer. Katrina published her first book – Peggy Lee Loves London: My London Guide (Metropoodle Press 2013) about some cool places in London featuring her toy poodle, Peggy Lee. Katrina has performed with her band at festivals and shows in the UK, Europe, South Africa, Canada, Australia and the US where she's recently completed a couple of North American tours.
2015 is the 30th anniversary of 'Walking on Sunshine' and Katrina has just released her new single, 'Sun Coming Upper' (a response to 'Walking on Sunshine' 30 years on) from her first studio album in 10 years – 'Blisland'.
For more information on Katrina please visit her site www.katrinasweb.com