Burren Chocolate
Burren Food Gem #3: Chocolate in The Burren
We've got a micro chocolate factory at the foothills of the Burren mountains – Hazel Mountain Chocolates. Opened on the 14th February 2014, this boutique chocolatier produces only fine chocolates with unique Burren ingredients like juniper berry, flower petals or elderflower berries. This summer Hazel Mountain Chocolates will launch Ireland's first stone-ground bean to bar chocolate. Children love the milk chocolate with bluebell flower petals….what could your favourite be?? Spot the Burren icons on the packaging!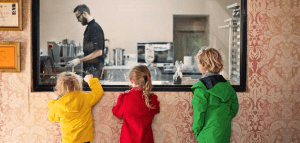 Hazel Mountain Chocolate, our boutique bean to bar chocolate factory and shop in the Burren Mountains is one of the smallest and most remote chocolate factories in the world. We make our chocolate in very small batches using rare Trinitario cacao beans and raw cane sugar for our dark chocolate and Irish milk from grass-fed cows in our milk chocolate delivering you the finest, purest and multi-award* winning chocolate.
Our team of chocolate makers begin by hand roasting, cracking and winnowing cacao beans before stone grinding it for 40 hours. We then age our chocolate for further 3 weeks before our chocolatiers create our award winning range of bean to bar chocolates. You can't just rush the process of making the world's best chocolate.