This course is an introduction to the geology of the Burren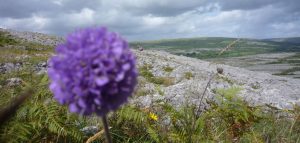 aimed at anyone with an interest in the Burren and a curious mind. It will run for 5 Thursday evenings in February/March 2016 for 2 hours each evening at the Burren Outdoor Education Centre in Bell Harbour. This popular course is run by Colin Bunce (Burren Outdoor Education Centre) and Dr. Eamon Doyle (Burren and Cliffs of Moher Geopark) and is now in its 6th year.
Topics covered are: an introduction to geology, the geology of Ireland, the geology of the Burren, fossils, geological maps, geology and the Burren landscape; there is also a field trip. On the last night there will be a guest speaker.
The course is designed to be relaxed, informative and practical. No previous geology knowledge is required (and there are no exams!)
Cost: E60              Dates: Feb 2nd – March 2nd inclusive      Time: 7.30 – 9.30 pm
Venue: Burren Outdoor Education Centre, Turlough, Bell Harbour.
Bookings and enquiries: colin.bunce@lcetb.ie   or edoyle@clarecoco.ie  or 065 7078066