I was so excited when Raquel told me that part of my itinerary was a walk with Marie McGauran of Burren Experience Guided Walks. I had heard of a place called the Giants Playground in the Burren and had always dreamed of visiting it.
I am in the Burren and my dream has come true.  It is early November but the weather is glorious and we are blessed with winter sunshine. The sky is brilliantly blue with white rolling clouds, and with Marie's warm and friendly personality, nothing can be better.
Marie tells me about herself and how she grew up here on the family farm and because of this she developed a deep love and connection for the landscape. She explains how her father farmed the land in the traditional way and with the help of the family built roads and walls as part of this farming practice, I know I am in the presence of many generations of this lunar landscape.
I am fascinated by the giants playground, Marie relates how it got its name and many more stories about stories handed down through the generations from her ancestor's the O' Brien's and the O' Loughlin's
While we are walking towards Mullaghmore Mountain, Marie asks me if I would like some time on my own on the mountain, quiet time… she says. I immediately say yes, it is as if the mountains are calling me to immerse myself completely in this wilderness and absorb the peace, stillness, and beauty of this magical ground. As I climb onwards and upwards I feel elated by the breath-taking views and uninterrupted silence.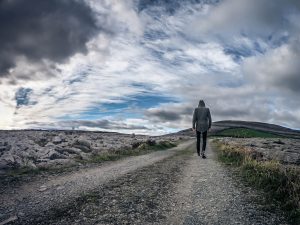 I come away from the mountain feeling overjoyed and enriched for having had the opportunity of walking with Marie and being physically present in this landscape called the Burren, A Magical Portal into Ireland's Soul.