The Burren Food Trail members have put together three tastylicious events this summer where locals and tourists will have an opportunity to mingle, dine and discover the wonderful produce of the Fertile Rock. Each event will consist of a pop up restaurant style dining table at unusual venues to celebrate local, seasonal, artisan, organic, wild and home made produce.
The first of these series of events took place at Pot Duggans in Ennistymon last Friday 8th of June, the 50 available spaces sold out within 2 weeks of its announcement. The evening started outside in the glorious June weather with pre-dinner drinks.
After welcoming the lucky guests that got their hands on tickets the Burren Food Trail members got to work to deliver 3 amazing starters that consisted off: Organic radish with seaweed butter, Sliochain with a hint of Poitín, organic beetroot carpaccio with pickled samphire, samphire salsa verde & Dulse marmalade. Starters were followed by a tasting plate of home baked bread and 3 flavoured home made butters that the guests eagerly dug into.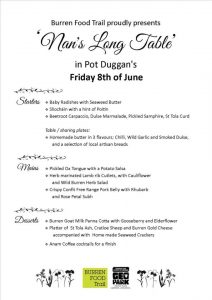 For main course the ox tongue was served cold on a buckwheat crouton with potatoe salsa. That was followed by freshly BBQ'd herb marinated lamb chops and cauliflower tabouleh followed by creme brulee pork belly confit with rhubarb and rose petal jam and fresh lettuce leaves from Moy Hill Community Garden. Starters and mains were accompanied by carefully selected white and red wine from Burren Fine Wine & Food.
Desserts consisted of goats milk panna cotta with gooseberries and elderflowers and cheese platters with home made seaweed crackers. To finished off the meal Anam Coffee cocktails were served in fabulous glasses decorated with edible flower petals.
Jane Novorro, originally from Long Island, had been visiting the Burren prior to the event and kindly designed the menu for the night, especial thanks to Jane, our many volunteers in the night, The Falls Hotel, Pot Duggans for the marvellous help and Clare County Council for supporting our events.
To finish off the night Chris Wood delighted the guests with his guitar putting a musical end to a beautiful evening in County Clare.
The Burren Food Trail members that worked together on this wonderful showcase of food, wine and entertainment were: Burren Fine Wine & Food, Wild Kitchen, Burren Free Range Pork, Anam Coffee, The Cheese Press and Ennistymon Market House.
Tina O'Dweyer from the Tourism Space attended the event: "This was a truly memorable event. The presentation of the food was stunning and it was a privilege to be served by the producers themselves. I think it was inspiring – we really can be very proud of our food heritage and the wonderful creativity of the growers, producers and chefs of the Burren region and indeed throughout Ireland."
The next event, "John Blake Dillon Table", takes place at Burren Fine Wine & Food in Ballyvaughan on July 19th. John Blake Dillon was an Irish writer and Politician who was one of the founding members of the Young Ireland Movement. He was harboured by his friend Fr Ryder in the Parochial house of Glenaragh Church (now Burren Fine Wine and Food ) after the 1848 Rising before he made his escape to America.
Now one hundred and seventy years later we will have an evening of celebration where you will have a chance not only to meet  John Blake Dillon (in character ) to share his story but also many members of the Burren Food Trail who will share their produce and stories  with you.
The evening will start with a welcome glass of Champagne and Oysters followed by an array of delicious canapés, weather permitting this will take place in the garden as you mingle with other guests and Food Trail members.
We will them move indoors for the Main Course of Fresh Salmon accompanied by
a feast of Chef's delights following the rhythm of the season and enlivened with his Savage Craic pickles and condiments.. Linnalla Ice cream will be one of the decadent dessert choices as well as a selection of Burren Gold Cheese. All courses will be served with a carefully selected French Organic wine from the award winning Domaine de Trepaloup Domain.
The third long table event will take place at Doolin Cave on September 14th, giving guests an opportunity to explore the Burren underground, nibbling on canapés and home made punch while listening to a recital by the great stalactite. Main course, cooked in pit fires,  will be served back upstairs to catch the beautiful Burren sunset. After dessert the Midnight Court, performed by Gerry Howard will bring an end to this fabulous extravaganza.
Tickets for the July and September long table events can be purchased through our website www.burren.ie/events/