Kayak and Cycle the Wild Atlantic Way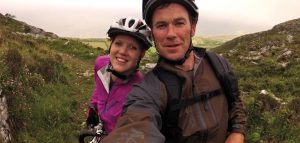 Kayak and Cycle
Welcome to Doolin, the music capital of Ireland, not to mention a great stopping point on the Wild Atlantic Way, and also home to Doolin Activities; a small family run business that my husband Patrick and I set up as a way to share our passion for the outdoors. We offer sea kayaking tours with North Clare Sea Kayaking & mountain biking tours with Burren Way Mountain Bike Tours, in the Burren & Cliffs of Moher Geopark.
Join us for a paddle along the Wild Atlantic Way where there is something magical about silently paddling a kayak in a still ocean at the foothills of the Burren's limestone mountains. To explore the coastline and watch the sea come alive is an unforgettable experience – an experience that can be found in spades along the North Clare coastline.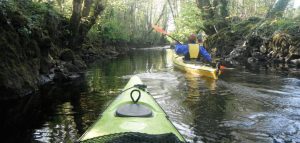 In the heart of the Burren & Cliffs of Moher Geopark, lies the small seaside village of Ballyvaughan. Here in the shelter of Galway Bay, is an ideal spot to learn to kayak or for more experienced paddlers, a great place to hone your paddling skills.
From a 3-hour trip to a 6-hour exploration tour, Patrick and I will show you a different side of the Burren, one that can be experienced with the whole family. Our tours are specifically tailored to each client, so they are suitable for everyone wanting to get out into the ocean.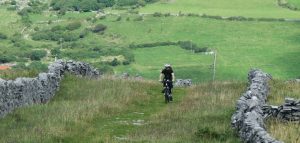 If land based activities are more your speed, then get ready for one of our adrenalin pumping guided tours off road and off the beaten track. We are happy to show you places you can't normally get to with views of the surrounding countryside you will not soon forget.
The uniqueness of the region coupled with exciting mountain biking trails makes for the perfect spot to enjoy the sights, sounds and adventures that surround Clare's Wild Atlantic Way.
The Caher Valley, just north of Doolin, and the Black Head Loop offer some fantastic tracks and trails that are perfect for exploring the stunning scenery and a great way to get away from traffic and the busy roads. Take 4 hours or take 6, the pace is up to you on this tour and you will want plenty of time to stop and breathe in the views over the Aran Islands and North to Galway and the mountains of Mayo. Back to the South, the Cliffs of Moher rise majestically from the sea, and Doolin sits nestled snugly in the valley just below. This is a tour you will remember long after leaving these shores.
Either by kayak or by bike, come and explore the Wild Atlantic Way with us here in the Burren & Cliffs of Moher Geopark – you certainly won't regret it!
See you on the water or on the trails – Kelly
www.northclareseakaying.com / www.burrenwaymountainbiketours.com