B&B's/Guesthouses
Caravan & Camping
Mind, Body, Spirit
Self Catering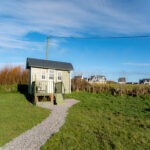 Website Wild Meadow Huts
Wild meadow Huts – Luxury accommodation in the Wild.
Situated at the end of a country lane that offers views to the Cliffs of Moher and the Wild Atlantic you will find Wild Meadow Huts. A collection of handcrafted Shepards huts nestled in the hollow of a wild flower meadow and only minutes walk from the heart of Doolin village.
Wild Meadow Huts offer the ultimate couples retreat. Unwind in your own cosy & luxurious hut that is self contained to cater for all your needs and enjoy the private two person soak tub and relaxation deck.
Shepards Huts Page
Our luxury huts sleeps two people and are designed with couples in mind. They are equipped with self-catering facilities and modern conveniences to ensure a comfortable stay.
With an emphasis on comfort, relaxation & restoration in mind, we provide a king size bed with award winning Emma mattress dressed with crisp white linen topped with Irish handwoven blankets. All huts are ensuite with a shower and fluffy robes are provided. Individual espresso coffee machines are provided and every hut has its own private deck area where you can sit with a coffee or glass of wine while enjoying the sights and sounds of nature around you. Included in your stay is the use of the private two person soak tubs & relaxation deck.
Facilities Included:
•. king size bed
• Luxury bedding and towels
• Private soak tubs & relaxation deck
• Ensuite bathrooms, shower & fluffy robes
• Private decking area with outdoor seating
• Espresso coffee machine
• Indoor seating area
. Breakfast bar.
• Thermostatically controlled Electric heating.
• Fully equipped kitchenette including a hob, fridge, microwave,
kettle & toaster
• Crockery, cutlery & utensils
The business gets its name from the location, the huts are situated in a beautiful wild flowermeadow which has developed naturally over the past 25 years since Anne & Conor became the owners of this 6 acre field. They adopted a strong emphasis on organic management of the area, there has never been any pesticides, chemical or fertilisers used. As a result, an abundance of wildflowers bloom in the meadow every year and it is home to lots of wildlife such as hares, bees, birds & other wildlife. The Aille River runs along the bottom of the meadow and has many ducks & herons residing there. Each hut takes its name from the natural environment.
About Us.
Meet Anne & Conor, a husband and wife team, who purchased the meadow over 25 years ago and built their family home there. Anne & Conor have over 34 years' experience in the tourism industry in Doolin. Amy, their daughter, who runs the marketing and social media side of things. Amy has worked in the area of social care for the last number of years but has made the change to join the family business since having her little boy Tommy in 2021.
To apply for this job please visit gmail.com.