Adventure
Do
Mind, Body, Spirit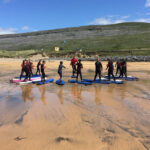 Website Aloha Surf School
Aloha Surf School runs surfing lessons in the heart of the Burren at Fanore Beach.
Located on the Wild Atlantic Way and away from heavily populated centres, it does not enjoy the fame attached to less attractive but better known surf destinations in Ireland. All the better for those who come here!
The beautiful Fanore Beach with all its space and uncrowded surf provides the ideal location for those wanting to take part in the adventurous experience that is learning to surf.
They offer professional surfing instruction or equipment rental for people of all ages and abilities. The surf school caters from complete beginners to surfers in need of a refresher course and the more advanced wishing to challenge themselves further.
Aloha was established in 2004 and place a high emphasis on great customer service and hands on coaching. They have French, Spanish and Portuguese speaking staff.
Stand up Paddleboarding
They also have a dedicated Stand Up Paddleboarding School that runs tours in Ballyvaughan on the southern shores of Galway Bay.
Bay SUP run Stand Up Paddleboarding lessons, tours and rentals from the beautiful village of Ballyvaughan right in the heart of the Burren. These calm waters offer the most amazing location to experience paddle boarding.
SUP is the ideal way to explore our coast line. As it offers a much higher vantage point then if you were sitting in a kayak, you really get a unique view of the ocean and landscape around you. It's almost like walking on water! On their coastal cruises they will take you in and around the incredible coastline of the Burren, where you'll get to see the sea life underneath you, cruise alongside the seals basking on the rocks, and really get a completely unique tour of this incredible part of the world.
They use the highest quality paddleboarding equipment available. All equipment is supplied for the lessons. Paddleboard, paddle, wetsuit, and buoyancy aid, so all you need is swim gear, towel, enthusiasm and a sense of adventure
Both of these watersports schools are regulated and accredited and operate to the highest professional international standards. The instructors are fully qualified ASI SUP Coaches & ISA Surf Instructors, Beach Lifeguards, Garda vetted and have received training and certification in Child Protection.
Head coach Peter Hynes who leads the team has worked previously for the RNLI as a Coastal Safety Manager in Ireland. He is a fully qualified Beach Lifeguard, ISA Level 2 Surf Instructor and ASI SUP Instructor. He is also an RLSS Beach and Pool Lifeguard Trainer and travels up and down the country training and assessing Beach and Pool Lifeguards. Rest assured you are in safe hands!
Surfschool.ie
enquiries@surfschool.ie
+353872133996
Baysup.ie
enquiries@baysup.ie
+353872133996