Mind, Body, Spirit
Shop
Visitor Centres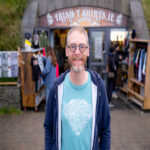 Website Irish T Shirts
Irish T Shirts is a family business based at the Cliffs of Moher.
As a family we live an eco-friendly lifestyle, so providing local products, which are certified as organic, vegan, ecological and ethically responsible is a naturally high standard that we enjoy maintaining. Our designs are crafted by hand and screen printed, by us, in our workshop here in North Co Clare. Meeting with visitors and sharing a piece of our culture and heritage is a constant pleasure.
Rob and our printers have trained for decades in art, design and printmaking, with a combination of extensive, real-world experience and University Degrees from Schools of Art and Design. We enjoy interrogating our own work and are always seeking to improve and achieve an even higher quality in each finished print and range of products. Different designs have come and gone over the years, but nothing is forgotten. We introduce new designs, new elements into old work and even sometimes rediscover old gems in a new light as we move forward, always crafting and evolving both the range on offer and our own interpretations and stories. Old words have new meaning in each retelling, and while we speak from the influences of times past, we aim to reflect our culture in a contemporary context.
The screen printing process we use is time tested and lends itself to a durable and superior quality product. We make and photographically expose our stencils before manually registering and individually printing each garment. Wet ink is pulled by hand across the screens to form the various parts of each finished design. To see the printing process in action is like seeing an abbreviation of the design process, as each part is set in place in quick succession, and on the last, the finished piece revealed, it springs to life, to be removed and cured, the platen spun away, and around again for the next.
At our retail shop at the Cliffs of Moher, you can see a range of finished products and purchase your very own original. While the shop itself is too small to print inside, we sometimes do set up and demonstrate the process outside, or in the main visitor Centre. The enthusiasm we have for our work can be heard in regular conversation, so if you have a question please do ask, we love our work and enjoy talking about it.
Irish T-Shirts
Craftworker No. 1
Cliffs of Moher
Lislorkan North
Liscannor
Co Clare
V95 KN9T
0863108842
shop@irishtshirts.ie
https://irishtshirts.ie