Artisan Food Producers
Attractions
Visitor Centres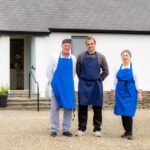 Website The Clare Jam Company
The Clare Jam Company is a family owned, artisan jam producer, located in Doolin. We have been
making homemade jams for over 30 years and specialise in a variety of extra fruit jams, marmalades,
jellies, chutneys, mustards and condiments. The jams are prepared using the traditional open pan
boiling method, using only pure, whole and 100 % natural ingredients.
Each jam is handmade from start to finish, hand-poured, labelled and packaged. The Clare Jam Shop is situated equal distance
between Doolin and the Cliffs of Moher on the Burren Way and the Wild Atlantic Way.
Opening Hours:
09:00-18:00 Monday to Sunday
The Clare Jam Company
Lough North, Doolin, Co.Clare
Tel: 065-7074778
Email: veramuir@eircom.net
Website: http://www.theclarejamcompany.com
Instagram: @theclarejam