Shop
Taste
Tea Rooms/Cafés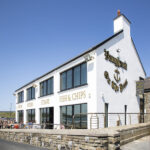 Vaughans on the prom
Vaughan's on the Prom
This smart modern two-storey restaurant was acquired
by the Vaughan family, of Liscannor's famed Anchor Inn, in 2021
It enjoys a great location, overlooking one of Ireland 's best surfing beaches, and
the interior is very attractive.
Environmental care and local sourcing are central to Denis Vaughan's (owner &
head chef) philosophy and super-fresh fish and seafood.Their superb Fish & Chips is
made with the freshest of fish and dipped in their famous batter (the starter dates
back 19 years!),it is served with genuine handcut chips that are steamed before
frying in beef dripping.
A Basque Josper Grill that is used for cooking all meat and shellfish over hot coals at
250ºC, giving it an irresistible flavour and texture. Favourites include whole
Clare lobsters, Galway Bay Prawns (langoustines) and John Stone Black Angus Rib
Eye Steak, which is served with a flavoursome beef jus and chunky chips.
Starter specialities include a Proper Prawn Cocktail, made with Galway langoustines,
iceberg lettuce and Marie Rose sauce, and delicious Steamed Mussels with white
wine, garlic and parsley oil, served with freshly baked soda bread.
Service is great, and it should be no surprise to find that the drinks list is very well
considered – and includes the local beer, Western Herd. And don't forget to round off
a meal here with that other speciality, ice cream – from their own 'cow to cone' ice
cream parlour, Spooney's, next door.
Seats 84 (+40 on terrace). Children welcome to 8pm; full wheelchair
access. MasterCard, Visa
Spooneys Fish & chips
This vibrant fish and chip bar serves extra special Fish & chips to go. The
fish is landed locally, before being filleted and freshly battered in-house,
and the chips are made from Irish potatoes, grown nearby in Killimer, and
then peeled, cooked in beef dripping
Ice cream menu, desserts, coffee; Fish & Chips. A la carte.
Spooney's 99 ice-cream parlour next door serves cones or wafer baskets,
and the ice cream Every morning, Denis Vaughan (owner) collects the
fresh milk for Spooney's ice cream from Lacey's Farm in Liscannor, before
pasteurising it in Vaughan's Anchor Inn and then churning it in-house.
The menu also offers sorbets and milkshakes made with this Liscannor
milk and a Super Sundae, made with Spooney's signature soft serve, and
smothered in colourful toppings and sauces, like Oreo and Biscoff.
Spooney's also serves freshly made churros, doughnuts, brownies and
cookies – and, true to their commitment to sustainability, the excellent
coffee is from Sunday Collab, who donate 1% of all profits to protecting
the oceans.
Seats 26. Open Mon-Sun 10pm-7pm
Wheelchair accessible