Artisan Food Producers
Catering
Taste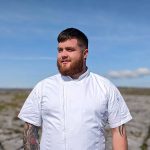 Website Ryan Fitzpatrick Chef
Wild Catering Company Doolin
"Wild Catering brings bespoke catering to the Clare region, run by chef/owner Ryan Fitzpatrick who has many years of experience working high profile hotels and restaurants here in Ireland and around the world.
We cater to private, corporate and family events that will delight and inspire.
Sourcing local Irish ingredients wherever possible is a main ethos within our company. We only use the finest farms and food purveyors to ensure quality in the cuisine we offer you.
Our menus reflect our passion of exceptional ingredients and distinguished flavors. Whether a multi-course wedding reception or an intimate gathering with friends, we work closely with you to develop a menu which embodies your  vision and desire. Our mission is to ensure your event is catered beyond expectation"