Aran Island Ferries & Cliffs of Moher Tours
Do
The Largest and Fastest boats in Doolin – Just 15 Minutes to Inis Óirr and 35 Minutes to Inis Mór!
Welcome aboard The Doolin Ferry Co. with Bill O'Brien & Family, the Original Ferry Company Est.1970. We look forward to celebrating our 50th anniversary with you this year in 2020!
Join the O'Brien family on an iconic journey on the Wild Atlantic Way to the Aran Islands & Cliffs of Moher. Spend a day or two immersing yourself in Irish Island Culture, or just take our magical one-hour Cruise along the stunning Cliffs of Moher.
Travel on our new fast ferry fleet the 'Aran Islands Express' & 'Doolin Express'. We offer the fastest crossing to Inis Oírr in only 15 minutes, and to Inis Mór in 35 minutes! This year we are proud to launch the largest passenger ferry ever to operate from Doolin Pier, the 'Aran Islands Express'. She is a perfect complement to our 'Doolin Express' ferry which is the only ferry in Doolin with 'State of the Art' anti sea sickness technology for a smoother crossing!
Cliffs of Moher Ferry
See sailing times & reserve HERE   (https://doolinferry.com/cliffs-of-moher-ferry/)
The Cliffs of Moher are iconic, and you haven't really seen them until you've seen them from the sea! They rise to a magnificent height of over 700ft which you can only really appreciate from a sea view!! You may even spot some puffins, dolphins, seals, or basking sharks.
Our Cliffs of Moher ferry is truly an amazing way to take in the majesty of these iconic cliffs. Join our crew for a journey you will be sure to remember. Take in the wildlife, nature, and history of the stunning west of Ireland coastline. See Ireland's largest sea bird colony, An Branán Mór Sea Stack and a Sea Cave used in filming Harry Potter & the Half Blood Prince.
Aran Islands Ferry
See sailing times & reserve HERE   (https://doolinferry.com/aran-islands/)
The Aran Islands are a ruggedly beautiful group of three islands located on the West Coast of Ireland. Famous for their wild landscapes off the beaten track these islands never fail to wow. They are a celebration of Irish language, culture, and music with a unique display of some of the oldest archaeological remains in Ireland.
Come to see thatched cottages and get a glimpse into the Ireland of old. The Aran Islands have a distinct character and life is slower here — a sanctuary to modern life while local providing a welcoming spirit.
We offer several sailing options daily and operate from March to October, reservations recommended. The O'Brien family and crew look forward to taking you on an unforgettable journey along the Wild Atlantic Way!
Aran Islands Maps
Do not forget to download your free Aran Islands Visitor maps before you go!
See maps HERE  (https://doolinferry.com/aranislandmaps/)
Fáilte ar bord The Doolin Ferry Co.!
Our bi-lingual educational school tours for students of all levels check out Learning the landscape, calling teachers we give tours in English and Irish.
Awards
Sustainability and Corporate Social Responsibility, members of BEN,
Business supporter of environmental charities BirdWatch Ireland & the Irish Whale & Dolphin Group.
Opening Hours:
9 – 6pm, 7 days, March to November
Reviews:
Click Here to read some of our customer reviews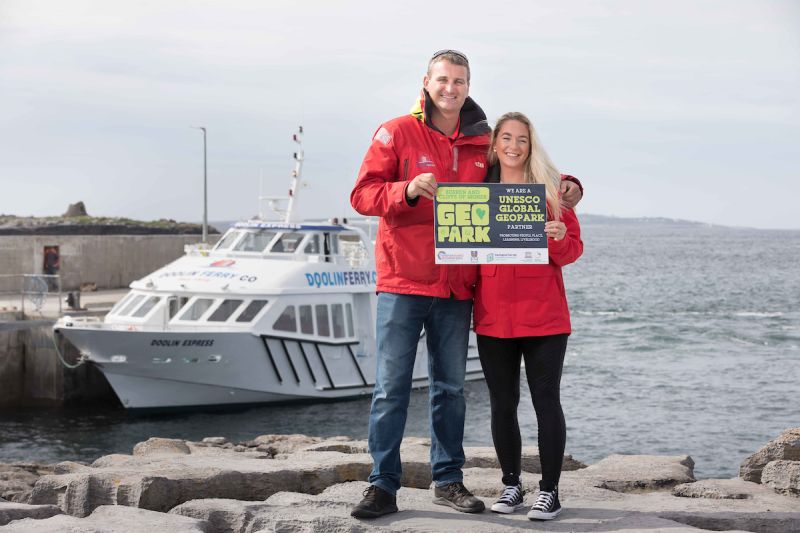 +353 65 7075555, +353 87 958 1465