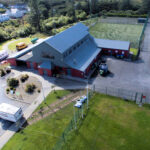 Website Lisdoonvarna Failte
Lisdoonvarna Fáilte CLG was established in June 1978 to utilise tourism in North Clare as a conduit for job creation and economic sustainability.
Since 2008, Lisdoonvarna Fáilte has been the direct vehicle through which over €10 million in value has been brought into the local and North Clare economy. Lisdoonvarna Fáilte CLG has proactively responded to the needs of the wider community and provides a platform for social inclusivity. This has led to a focus on tourism product development and addressing the social, cultural, recreational needs of people living in Lisdoonvarna and North Clare. As a result, the company now manages community assets such as the 450-seater Pavilion, Cois Céim Creche and Playground, Astro Turf, Community Pitch and North Clare Community Park on behalf of the people of Lisdoonvarna. It is one of the largest amenity centres in Ireland. Also in its care is the infamous Spa wells Heritage centre with its rich history brought back to life by the Lisdoonvarna Historical Society.
Lisdoonvarna Fáilte responded to the challenges of Covid-19 with the establishment of Burren Community Meitheal, uniting clubs and organisations with over 140 volunteers to assist the  communities in North Clare. In addition to our social media communication, we needed new virtual ways to connect with the community and having an online presence was vitally important. We launched www.lisdoonvarnafailte.ie in 2020. It is an information hub for the community and allows clubs, organisations and businesses to easily book the Pavilion and sports pitches online. We have held community outdoor events, working within Covid guidelines, in the North Clare Community Park and people have generously sponsored Lisdoonvarna Fáilte through a secure payment system on the website.
More recently, Lisdoonvarna Failte introduced Online Bingo and have set up an Ecommerce facility to allow people order and pay for their books through the website.
Community Bingo is a much loved social event and as one of our local Bingo players commented about the Online Bingo, "it has the same friendly feel and atmosphere as the bingo in the Pavilion. Even though we cannot be there in person, it is the next best thing!